18 Jun 2021
Hungary and the USA in the great final of Athens!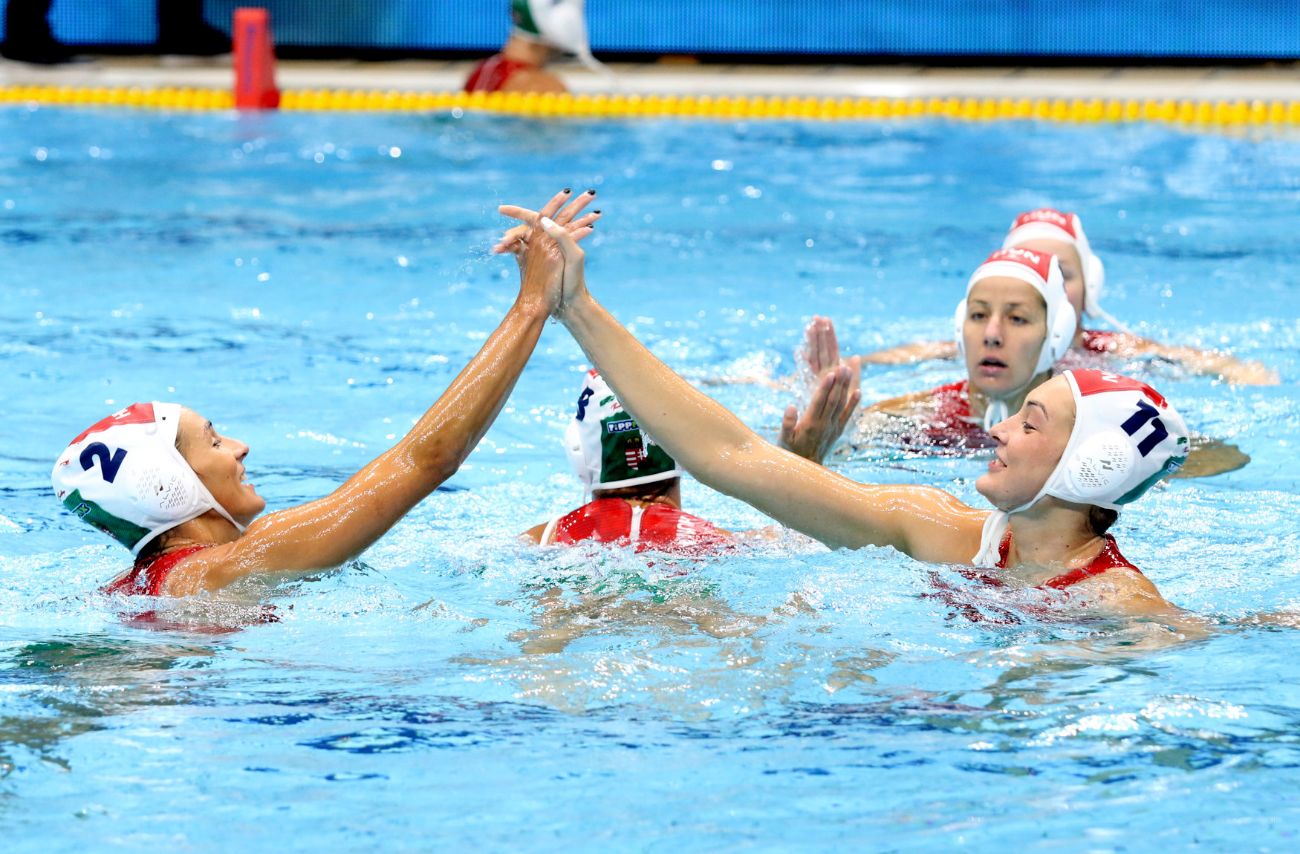 The big moment arrived at the Super Final of the World League in Athens where the two contenders for the gold medal were named. The top team in the event's history, the United States, beat Russia in the first semifinal and will be in one more final while there it will be also the team of Hungary who won the second semifinal against Canada in a great Water Polo fight.

USA and Hungary met again in a World League final many years ago, in 2004, in Long Beach (USA won 12-10).
Tomorrow's program (19/06):
Final 7th-8th place: JAPAN - KAZAKHSTAN (15:00)
Final 5th-6th place: GREECE - SPAIN (16:45)
Bronze medal match: RUSSIA - CANADA (18:30)
Gold medal match: USA - HUNGARY (20:15)
GAME DAY 5 REVIEW:

GREECE - JAPAN
Greece overcame - as much as possible - the shock of the defeat on penalties by Russia in yesterday's quarterfinal and the exclusion from the semifinals.
Greek National Team took the win over Japan, in the first qualifying match for the 5th-8th places of the World League Super Final.
Greek girls dominated from the beginning and with strong outbursts, first in the second and then in the fourth period, they raised the difference. The player of the game (MVP) was Christina Tsoukala (good in defense and attack with 3 goals), while the top scorers for the Greek team were Elena Xenaki (5) and Nikoleta Eleftheriadou (4). Greece will play against Spain for 5th place in the Super Final in Athens.

GREECE - JAPAN 17-5

Periods: 4-2, 5-0, 4-2, 4-1.

GREECE (Theo Lorantos): Stamatopoulou, Tsoukala 3, Tricha, Eleftheriadou 4, Plevritou M. 1, Xenaki 5, Ninou 1, Patra, Tornarou, Plevritou V. , Plevritou E, , Myriokefalitaki 3, Sotireli

JAPAN (Motomiya Makihiro): Miura, Arima 2, Inaba 1, Ura, Iwano 1, Koide, Hashida, Niizawa, Yamamoto 1, Kawaguchi, Nishiyama, Kudo, Shioya

REFEREES: WENGENROTH Ursula (SUI) | DESLIERES Marie-Claude (CAN)

Theo Lorantos (Coach of Greece):

"The match with Japan was another meeting to build the character that this team needs. What people see is not just what happens in the water. The goal of our team is to be always competitive. It is a great incentive for players to play games against quality teams, such as Spain. So tomorrow the race for 5th place is a motivation for all athletes".

SPAIN - KAZAKHSTAN

Spain, as expected, will be the opponent of Greece (Saturday 19/6, 16:45) for the 5th place of the 17th World League Super Final. The Spaniards, comfortably prevailed over Kazakhstan with 20-8, in the group match for the 5th-8th places, on Friday at the OAKA swimming pool.

The girls of the European champion, Miguel Oca showed strength against Kazakhstan and completely dominated from the first to the last second. The player of the game (MVP) was the Spaniard Elena Ruiz (she also scored 5 goals).

SPAIN - KAZAKHSTAN 20-8

Periods: 6-3, 6-3, 4-2, 4-0

SPAIN (Oca Miguel): Ester, Bach, Espar 3, Ruiz 5, Aznar 2, Gonzalez, Espar, Pena, Forca, Pena 1, Forca 3, Crespi, Garcia 3, Leiton, Sanchez

KAZAKHSTAN (Naurazbekov): Zharkimbayeva, Pochinok, Glukhova, Turova 3, Yeremina 3, Roga 1, Novikova, Murayeva, Shapovalova, Anosova, Murataliyeva 1, Kolesnichenko

REFEREES: VOEVODIN Arkadiy (RUS) | SPIRITOSANTO Darren (USA)

Miguel Oca (Spain national team coach):

"When you play against Greece it is always a difficult and stressful game. Greece is a very good team that plays excellent defense and has very good players to shot. We have to prepare very well. Tomorrow may not be a medal race, but there is an important incentive to play well and win a quality team and get a good mentality ahead of the Tokyo Olympics. In Tokyo, we aim to claim a medal. Our role is not easy at all. The USA is one level above the others, but then eight world-class teams are very good, including Greece, and which can win any match between them".
RUSSIA - USA
One more Water Polo showtime from the USA team in Athens. Adam Krikorian's girls made a perfect defensive game against Russia and advanced to the big final of the 17th World League Super Final.
Although Russia stood strong in the first 8 minutes of the game the USA managed to grow their defensive skills and left the Russian team without a goal from the 2:43 minute of the first period until the 0:39 minute of the third period!

The USA will fight for one more World League gold medal tomorrow against Hungary while Russia will fight for the bronze medal against Canada.

The MVP of the game was Makenzie Fischer (3 goals).

Adam Krikorian (USA coach):

"I am very happy with the way we played. I do not want to hide behind words. I do not care if we win by ten or by one goal difference. My concern is to win and play well. I am proud that we play well here in Athens. We play smart, loud, fast. Of course, we should not be complacent, just five weeks before the Olympics. We must continue to improve. Rest assured that all the teams that are here will be noticeably better and our task will become more difficult. It is also great that here in Athens we played with all the teams. We played with Greece, Spain, Russia and tomorrow with Canada or Hungary. It is very good for our preparation and because of Tokyo ".

Andrei Belofastov (Russia assistant coach):

"This US team was amazing in Rio in 2016 and is still playing just as well now. This is a great generation. They play another style of Water Polo based on strength, fast play, and great tactics. It is difficult for a European team to play against them. We need to keep playing with them so we can get closer to them. Today we lost by nine goals and that is a harsh reality. We were defeated fairly. Our goal now is to improve in the coming weeks so that we can claim a medal in Tokyo."

RUSSIA - USA 8-17

Periods: 3-5, 0-4, 1-4, 4-4.

RUSSIA (Gaidukov Aleksandr): Golovina, Bersneva, Prokofyeva 1, Karimova 1, Borisova 1, Vakhitova, Serzhantova, Simanovich 1, Timofeeva 1, Soboleva, Ivanova 1, Glyzina 1, Karnaukh.

UNITED STATES (Krikorian Adam): Johnson, Musselman 3, Fattal 1, Hauschild, Steffens 2, Haralabidis 3, Neushul, Fischer A. 2, Gilchrist, Fischer M. 3, Williams 2, Longan.

REFEREES: PERIS Nenad (CRO) | TEIXIDO Jaume (ESP)

HUNGARY - CANADA

Hungary and Canada offered many beautiful goals and spectacle in the second great semifinal of the World League Super Final in Athens!

Hungary continues to show progress from the first day of the games and deservedly won a place in the final of the tournament. There it will play against the titleholder, the USA.

It was a semi-final with many tough duels in the water, with Hungary constantly ahead and Canada chasing a draw until the first minutes of the 4th period.
Canada has a second chance of winning a medal at the bronze medal game against Russia!

The best player of the game was for the 2nd time in this tournament the Hungarian Goalie Alda Magyari! The first scorer of the game was Rita Keszthelyi by 4 goals.

HUNGARY - CANADA 14-10

Periods: 4-3, 3-2, 6-4, 1-1.

HUNGARY (Attila Biro): Magyari, Szilagyi 2, Valyi, Gurisatti 2, Szucs, Parkes, Illes 2, Keszthelyi 4, Leimeter 1, Gyongyossy 1, Rybanska 2, Garda, Kaso.

CANADA (David Paradelo): Gaudreault, McKee 1, Crevier, Wright E., Eggens 2, Sohi, Bekhazi, Lemay-Lavoie, McKelvey, Christmas 3, Paul, La Roche 2, Wright C.

REFEREES: OHME Frank (GER) | ZWART Michiel (NED)
Attila Biro (Hungary national team coach):
"I am very happy that we won a medal in this tournament. Our psychology will be at its zenith because of the upcoming Olympic Games in Tokyo. With tomorrow's final, we will have given a total of six games against very good teams. Day by day we become better. That was, after all, our goal. It helped us a lot that we met a while ago for two whole weeks in California and did a great preparation with the American women. We will try to make it difficult for them in tomorrow's final. I hope we get a positive result. May we win the gold medal. If not now, maybe a little later, we will be able to reach a victory against this very big team of the US that is the favorite in the final. The big profit from our participation in the Athens games is not only the medal. It is our psychology so that we can claim the realization of the dominant goal of the year which is a medal at the Olympic Games ".

David Paradelo (Canada National Team coach):

"We started the game well but fell behind at the beginning of the third period. This defeat is a lesson for us in the run-up to the Olympics. In Athens, we played great games and we helped a lot in preparing for Tokyo. In the small final against Russia, we will try to win the medal. We beat Russia in the group games, but it is a great team and very difficult. I hope we will respond ".